Low Ankle Hover Series 01 | White On Grey | Men
Description :

Low Ankle Hover Series 1 merupakan karya klasik sneaker dengan latar belakang minimalis elegan. Low Ankle Hover bertujuan untuk menemani hari-hari teman yang super sibuk dengan mobilitas yang tinggi, sehingga fleksibilitas bukan menjadi kompromi. Termotivasi dari kompleksitas pada jaman modern, HOVER dirancang dengan menggunakan bahan premium yang sangat lembut dan teknologi ABSORB+ pada insole Gio Cardin® untuk selalu menjaga kenyamanan kaki teman.
Details : 
Upper : Premium Faux Leather
Lining : Soft Fabric
Insole : ABSORB+
Sole : Thermoplastic Rubber
Construction : High Pressure Cementing

Details : Hand-Stitched Sidewall Outsole

Lace - Up
Nylon Waxed Laces
Gold screen printed on upper
Proudly made in Indonesia
NB : TRUE TO SIZE SHOES
Customer Reviews
09/19/2020
Ferdy S.
Indonesia
I recommend this product
LAH-01 Men WOG
InSole nya comfort bgt. Cocok bgt buat daily activity. Mgk bahan putih yg ada di bagian dalam nya yg saat ini bhnnya spt kaos bole di improve supaya tdk mudah sobek dan lbh awet lg (misal dg bhn leather atau sintetis). Overall this is Good Design 10/10 Ext Material 8/10 Int Material 6/10 InSole 9/10 OutSole 9/10 (very easy to clean and durable)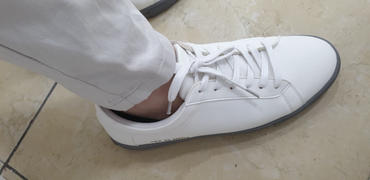 Dear Customer, Terima kasih atas kepercayaan Sobat terhadap brand lokal buatan Indonesia. We won't take your trust for granted. Terima kasih atas masukan yang sangat membangun untuk tim GIO CARDIN lebih baik di kemudian hari. #respect Ditunggu next product dari kami untuk menemani perjalanan Sobat. Salam hangat dari pengrajin lokal kami #TeamGioCardin
07/06/2020
Bambang P.
Indonesia
I recommend this product
Happy
Proud of indonesian brand Quality is enough I feel confortable to using this shoes. Recommended
Dear our beloved customer, Thank you for your support. Without your support, we could not strive and improve our products. Regards, Salam hangat dari pengrajin lokal kami #TeamGioCardin